If you think that only Tencent and Bilibili had a great lineup of Chinese anime this 2022. You might be mistaken as Youku and iQIYI also have plenty of offering this year and one of them is the upcoming adaptation of the novel The Demon King (Cang Lan Jue) or also known as The Parting of the Orchid and Cang.
Cang Lan Jue (Demon King) Donghua
This is another Romeo and Juliet story set in Ancient China with the usual Chinese antics involving elements such as demons and immortals. It may look quite similar to some of our favorite romance donghua but it also packed its own lore into its story which feels refreshing.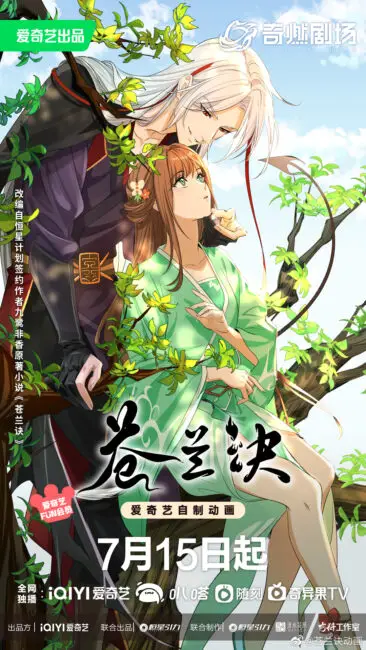 Cang Lan Jue or simply known as Demon King is an upcoming donghua (Chinese anime) from iQIYI this 2022. Handling its production is animation studio GARDEN, known for their works on the later seasons of Fox Spirit Matchmaker. In the latest announcement of the donghua, Cang Lan Jue release date is scheduled for July 15, 2022 on iQIYI and it will run for 24 episodes until December 16, 2022.
Synopsis
An immortal girl from the Po Xin tribe made her tribe defeated by Lord Demon, Dongfang Qingcang. She was reborn ten thousand years later as a humble immortal from the Heavenly Tribe, Xiao Lanhua (Little Orchid). Unknowingly, Lan Hua revived Dongfang Qingcang, his mortal enemy, who was trapped in the Hao Tian Tower. To regain his freedom, Dongfang Qingcang wants to sacrifice Xiao Lanhua's immortal soul to unleash the curse placed on his body. In the process, the heartless demon falls in love with the sweet adorable young fairy.

Source: Mundo Donghua
Teaser Trailer & PV
The donghua is adapted from the popular Chinese web novel The Parting of the Orchid and Cang, simply shorten as Demon King. It was written by author Jiu Lu Fei Xiang, one of the most prolific Chinese web novel authors who also wrote various series such as Ostentatious Zhao Yao, Heart Protection, The Blue Whisper, Accompanying the Phoenix, Winter Flower, My Good Life, 100 Ghost Collection, Enduring the Winter, Overturning the World, Daybreak, Ten Years Are Not That Far, Su Wan's Secret Love, Peach Demon, Grave Digger, Mr. Chen & Mrs. Cheng, Ziqin, Husband Whispers, Mulberry Song, and Sansheng, Wangchuan Wu Shang (where Cang Lan Jue shares a universe with).
The novel had been first published in 2014 by Jiangsu Phoenix Art Publishing House and jjwxc. If you wish to read the novel, it's also available on Novel Updates here: The Parting of the Orchid and Cang. It is also scheduled to received a live-action drama titled Eternal Love.
Related Post: All the Upcoming Chinese Anime of iQIYI in 2022 and 2023